King's Bounty: Dark Side Premium Edition Upgrade
King's Bounty: Dark Side Premium Edition Upgrade
NOTE : Activation key must be used on a valid Steam account. Requires internet connection.
DARK SIDE PREMIUM EDITION UPGRADE
King's Bounty : Dark Side Premium Edition Upgrade includes Dark Side Cookies bonus DLC that features:
Clot of Darkness amulet providing bonus to money and experience
Two additional locations
Over a dozen additional quests and a new unit
Owners of Premium edition have this DLC already.
About The Game
Time has come to join the Dark Journey to the other side of Teana and visit a mysterious part of the world never before seen by royal bounty hunters.
For the first time in King's Bounty series, players will be able to choose their hero's race as well as class. Become a fearless Orcs warrior, lead and heal your troops as a Demoness, or use dark magic as a fearsome Vampire.
The world is in turmoil. After winning the battle of Tristrem, arrogant elves plunder Orcish villages, desecrate holy shrines, and massacre the innocents. Orc-Baghyr, the greatest living Orc warrior, is forced to flee with a handful of loyal followers. He vows to return with a stronger force and retake his homeland!
Armies of human knights invade the land of Atrixus. A young Demoness named Neoleene, still mourning the death of her royal father, and her small unit of devoted imps is all that stands in the way of the invading horde.
Castle of the ancient Morton clan is threatened by an army of vampire hunters. Young Daert leaves home to seek allies among the other Dark races. All must join him or perish.
Fates of the three heroes are sealed. They come together in the depths of the Black Cave, where many centuries ago races of Light imprisoned Ancient Evil. The heroes exchange vows and share antique artifacts, then gather their armies and march to fight for the very survival of their race. They must unite against the Light or face extinction!
Features
New companion system (different companions for each character);
New battle companion;
New units, artifacts, and rage abilities;
Over 100 new quests and 15 new locations.
Required Configuration
Windows - Minimum
MINIMUM:
OS: Windows XP (SP3 required), Vista, 7, 8
Processor: 2.6 GHz and better
Memory: 1 GB RAM
Graphics: nVidia GeForce 6600 with 128 Mb VRAM or similar AMD card
DirectX: Version 9.0c
Storage: 8 GB available space
Sound Card: DirectX 9.0c compliant
Windows - Recommanded
OS Version: Windows 7 SP1 64bit, Windows 8.1 64bit Windows 10 64bit
Processor : Intel Core i7-3770 / AMD® FX-8350
Memory : 8 GB RAM
Graphics : NVIDIA® GeForce GTX 970 / ATI Radeon R9 series
Network - Broadband Internet Connection : Broadband Internet Connection
DirectX Version : Version 11
Storage : 25 GB available space
Sound Cart : DirectX 11 sound device
Additional Notes : Internet connection required for online play and product activation
King's Bounty: Dark Side © SoftClub IP Management Inc. 2014. All rights reserved.
Required configuration
Windows - Minimum
MINIMUM:
OS: Windows XP (SP3 required), Vista, 7, 8
Processor: 2.6 GHz and better
Memory: 1 GB RAM
Graphics: nVidia GeForce 6600 with 128 Mb VRAM or similar AMD card
DirectX: Version 9.0c
Storage: 8 GB available space
Sound Card: DirectX 9.0c compliant
Windows - Recommanded
OS Version: Windows 7 SP1 64bit, Windows 8.1 64bit Windows 10 64bit
Processor : Intel Core i7-3770 / AMD® FX-8350
Memory : 8 GB RAM
Graphics : NVIDIA® GeForce GTX 970 / ATI Radeon R9 series
Network - Broadband Internet Connection : Broadband Internet Connection
DirectX Version : Version 11
Storage : 25 GB available space
Sound Cart : DirectX 11 sound device
Additional Notes : Internet connection required for online play and product activation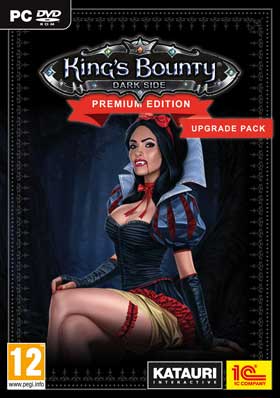 Language:

English

Genre:

Platform:

Vista Win XP Win 7 32/64 bits Win 8 32/64 bits

Number of players:

1

Release date:

2014-08-19